| | |
| --- | --- |
| | Convert WMD to WAV |
---
Total Audio MP3 Converter converts WMD to WAV. The software is an ALL-IN-ONE audio converter that supports more than 150 audio and video files, and supports batch conversion.
Install the Program by Step-by-step Instructions
Launch Total Audio MP3 Converter by Clicking Start -> All Programs -> Total Audio MP3 Converter -> Total Audio MP3 Converter
Choose WMD Files



Click "Add Files" button to choose WMD files and add them to conversion list.


Choose one or more WMD files you want to convert and then click Open.

Tips: please follow instrcutions below to load the WMD file if the softwar fails to load the WMD file.

Make a copy of the WMD file (copy the file to another folder, not move)
Change file extension of the copy of the WMD file to .zip, for example, sample.wmd -> sample.zip
Unzip the zip file
Add the unzipped file to the converter software.
Choose "to WAV"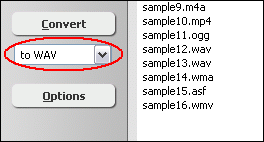 Convert WMD to WAV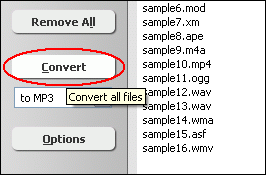 Click "Convert" to convert WMD files to WAV format.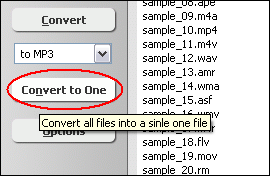 Alternatively, you could click "Convert to One" to convert and combine/join/merge multiple WMD files to one WAV.




The software is converting WMD files to WAV format.


Play & Browse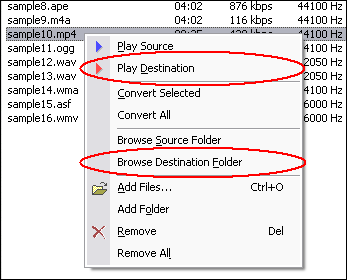 Right-click converted item and choose "Play Destination" to play the destination file, choose "Browse Destination Folder" to open Windows Explorer to browse the destination file.


Done
Top
---

Free Download Total Audio MP3 Converter
What is WMD?
Windows Media High Definition Video (WMV HD) is the marketing name for high definition videos encoded using Microsoft Windows Media Video 9 codecs. These low-complexity codecs make it possible to watch high definition movies in 1280x720 (720p) or 1920x1080 (1080p) resolutions on many modern personal computers running Microsoft Windows XP or Windows Vista, although the hardware requirements are steep. Microsoft's Xbox 360 and Sony's Playstation 3 video game consoles can also play WMV HD.
What is WAV?
WAV (or WAVE), short for Waveform audio format, is a Microsoft and IBM audio file format standard for storing an audio bitstream on PCs. It is a variant of the RIFF bitstream format method for storing data in "chunks", and thus also close to the IFF and the AIFF format used on Amiga and Macintosh computers, respectively. It is the main format used on Windows systems for raw and typically uncompressed audio. The default bitstream encoding is the Microsoft Pulse Code Modulation (PCM) format.
WMD to WAV Related Topics: 3GP to WAV, MO3 to WAV, MOD to WAV, MP3 to WAV, MP4 to WAV, MPC to WAV, MTM to WAV, WAV to AMR, WMA to WAV, WV to WAV, XM to WAV, DTS to WAV, DVD to WAV, MKV to WAV, VOC to WAV, 3G2 to WAV, 3GP2 to WAV, 3GPP to WAV, ALAC to WAV, CD to WAV, H264 to WAV, HDTV to WAV, KAR to WAV, M1A to WAV, M1V to WAV, MPG to WAV, MTS to WAV, NSA to WAV, NUT to WAV, OGA to WAV, RM to WAV, RMVB to WAV, SWF to WAV, TS to WAV, VCD to WAV, WMD to WAV, XVID to WAV